The Finest Environmental Cold Weather Fighting Available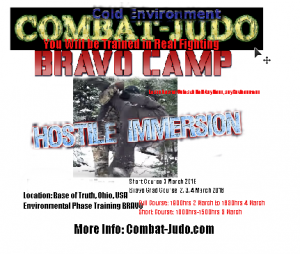 We specialize in the one constant human warfare encounter from the Stone Age to the Drone Age, it has been part of every conflict you can think of, it's never going away–Zero Distance Personal Warfare. For those living in modern city life close encounters of violence are the norm. We are not a sport, we are not traditional–we are a SOLUTION.
Combat Judo BRAVO Camp: The Finest Environmental Cold Weather Fighting Available
This is not Sport Judo in a Gi.
Dates: Full Course starts 2 March 1900hrs and ends 1630hrs 4 March (Friday evening 2 hrs, Sat. 5 hrs, Sunday 5 hrs=12hrs total) Short Course 3 March 1000hrs to 1500hrs (Sat 5 hrs)
Location: Base of Truth, 3992 Hunter Road, Perrysville, Ohio, USA
Start Time:  Friday 7 pm to 9 pm Sat and Sun: 10 am on both days
The little known combat judo of Jigoro Kano used by the USA Marine Raiders, USA Army Rangers, the super secret USA Army Alamo Scouts,  the Japanese Imperial Army, and the Filipino Guerrilla fighters.
We will hardwire you to actually be proficient in the fastest time possible. 
Combat-Judo is a military method that has evolved through its usage in WW 2 to advances made  in the Philippines to be taught in a modern coherent, systematic, scientific method that will deliver new skill and results in a short time.
Combat-Judo was designed to be used after a few hours of training–it is designed to be used differently by short and tall fighters. It is not taught in the traditional martial arts' way. This is designed for survival–and survival in battle up close and personal. The same place you will find yourself in modern urban violence. Whether you want to increase your skill or gain a whole new level of self protection for attempted robberies, mob violence, kidnappings or street assaults Combat-Judo is designed for those situations.
You will learn (and this is just a shortlist)
You will learn how Real Fighting is nothing like the gym, ring, cage or mats. 

You learn the real targets: differences between sport and stopping the attacker targets.

You learn how cold weather changes everything. Training in shorts and T Shirt inside won't prepare you for it.

You learn the throws that work in the snow.

You learn how to break any grip.

You learn to think with a personal battle plan it's your map–no one else can even answer the question what is your exact goal step by step–we can.

You learn how to make the throw even if the attacker is a grappler.

You learn what throws to NEVER attempt.

You learn how ENVIRONMENT dictates everything.
While others are charging you more for a 2 hour workshop we are giving you 3 days of training for a steal–as we introduce Combat-Judo to the USA. Be assured it's best to get in and join our community now.This camp will teach you survival methods you can't learn anywhere else.
 It will give you more than techniques it will give you strategy and tactics (Full Course). This is the area where many people have failed and unfortunately died. They just didn't have trainers/instructors who had operational experience in extremely violent/chaotic situations. And they never trained in the environment where they were attacked.
Here's the reality: No sport trainer can teach you about violence–it takes a veteran of urban/jungle/3rd World violence to give you the reality. world Military, counter violence, Zero Distance Warfare subject matter experts, Christophe Clugston and John Saylor (and they've done high level sport fighting: Pro Titles and Olympics).
This Combat-Judo BRAVO Camp is NOT about looking at techniques (like those others do in 2 and 4 hour workshops or clinics–sorry technique collectors) it's about having you perform in the very worst conditions. We don't fool you–you know you can handle it–when you DO it. You will join an elite group who will help take you  on a trip that's guaranteed to expand your physical skills, plant mental skills, and open your eyes to a whole new approach to self protection.  BTW we welcome those who use firearms to expand their skills with us.
This Combat-Judo BRAVO Camp has two options for prices and training: Short 1 Day Course or Full Course 3 Days:
Short Course:  You can take 1 day  of a solid 5 hours of training for REAL FIGHTING. Nothing is theoretical–all for being attacked in the snow, ice, cold. You will learn how to be efficient, effective and powerful through our hardwiring training (you've never done it anywhere else) and our Flawless Learning Method.  We teach you how to do every step correctly and you will– that includes all of the combat throws, breaking their grips, how to fight wearing heavy clothing, mittens and boots (bet you never even trained in them before and not a one of the other guys even thinks about  it) the combat strikes, new set ups, how to combine techniques, what to train, what not to train, how to make your  attacker the loser, how to fight if you're shorter, or how to fight if you're taller, how to fight if you're carrying extra weight, how to use clothing to your advantage, and on and on . $175  if paid in advance of 20th February 2018  Take action pay before February 20 and you can get a HUGE savings
Full Course: You can move your training up a notch when you select this. We will teach you how to 'Unleash Hell Any Hour, in any Environment' You will train a total of 12 hours over 3 days.  You will delve deeper into the best ways to utilize setups, how to ambush the attacker when you're right in front of him, And the most important aspect, you will learn how to start  thinking strategically and tactically–this is far different than a sport fight, the entire environment is different.  You will learn more about asymmetrical, 360 degree warfare in the cold than you ever knew about. IMPORTANT: To graduate BRAVO Camp you must take all 3 days (if you are interested in doing Q Course in the future  taking all 3 days is recommended) And the secure it NOW savings price is only $375 for the full course . Take a look around at our competition, you won't find anyone offering you this. We're doing it to give you an opportunity to be part of the Combat-Judo Movement at its ground phase in the USA. 
Dates: 2,3,4 (Friday, Saturday, Sunday) March 2018 for Full Course  and 3 March (Saturday) 2018 just for Short Course.
Location: Base of Truth, 3992 Hunter Road, Perrysville near Mansfield, Ohio, USA
NOTE: This camp is unlike anything you've done before. Here's what one Alpha Camp Grad said

And guess what? He'll be there at BRAVO with other Alpha Camp Graduates.
You will train in the environment (except Friday during Reception, Information, Grip Breaking Training). Remember to facilitate our logistics and serving you better we suggest you signup now and save money as prices will go up after 26 January 2018
To take  big SAVINGS for the Full Course with certificates and awards to the graduates 2, 3, 4 March 2018 use the button below
Use the button below.
To signup for the 1 day course 3 March Saturday, 2018 use the button below
*Cancellations must be done 72 hours before event to receive money back all cancellations will result in a $80 logistics, accounting fee and must be done 72 hours prior to event no refund if you fail to cancel 72 hours in advance..  If you bring THREE paying people your cost is FREE. 
Contact clugstondefense  @ yahoo. com  for any further questions.