Next in Chiang Mai, Thailand 
Combat Judo Alpha-Echo Seminar
This is not Sport Judo in a Gi.
You missed it in the USA  and this is what you missed

We can help you to the same level, so don't miss the next training event.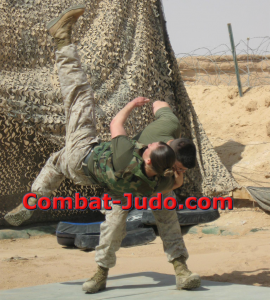 Dates: 9 December and 10 December 2017
Location: Chiang Mai, Thailand
The little known combat judo of Jigoro Kano used by the USA Marine Raiders, the Japanese Imperial Army, and the Filipino Guerrilla fighters in the treacherous jungle fighting in the South Pacific.
Combat-Judo is a military method that has evolved through its usage in WW 2 to advances made  in the Philippines to be taught in a modern coherent, systematic, scientific method that will deliver new skill and results in a short time.
Combat-Judo was designed to be used after a few hours of training–it is designed to be used differently by short and tall fighters. It is not taught in the traditional martial arts' way. This is designed for survival–and survival in battle up close and personal. The same place you will find yourself in modern urban violence. Whether you want to increase your skill or gain a whole new level of self protection for attempted robberies, mob violence, kidnappings or street assaults Combat-Judo is designed for those situations.
You will learn (and this is just a shortlist)
You will learn combat hitting–it's nothing like what you see in MMA or any boxing gym. 

You learn the real targets: differences between sport and stopping the attacker targets.
You learn the completely forgotten combat kicking (this is nothing like what you've been taught anywhere else–this is worth coming to the seminar just to get this important upgrade).
You learn the throws that work under pressure.
You learn the throws to use if you're shorter.
You learn the throws to use if you're taller.
You learn how to make the throw even if the attacker is a grappler.
You learn what throws to NEVER attempt.
You learn the most iconic and famous throw ever seen–and you learn how to actually use it, when to use it, how to set it up and when you should use it.
This seminar is two days and it is sure to be the best investment in personal self protection skills you can make.  It will give you more than techniques it will give you strategy and tactics (in the TIER 1 option). This is the area where many people have failed and unfortunately died. They just didn't have trainers/instructors who had operational experience in extremely violent/chaotic situations.
Here's the reality: No sport trainer can teach you about violence–it takes a veteran of urban/jungle/3rd World violence to give you the reality. real world Military, counter violence, Zero Distance Warfare subject matter expert, Christophe Clugston.
 This Combat-Judo Alpha-Echo Seminar will take you  on a trip that wlil expand your physical skills, plant mental skills, and open your eyes to a whole new approach to self protection.  
This Combat-Judo Alpha-Echo Seminar has two options for prices and training, Basic or Tier 1:
Basic:  You can take 1 day  or 2 days of 4 hours daily of training that includes all of the combat throws, the combat strikes, new set ups, how to combine techniques, what to train, what not to train, how to make your  attacker the loser, how to fight if you're shorter, or how to fight if you're taller, how to fight if you're carrying extra weight, how to use clothing to your advantage, and on and on . $250 a day or if paid in advance two days for only  $500.  Take action pay before November 15 and you can get a HUGE savings only $300 for both days..
Tier 1: You can move your training up a notch when you select this.  You will train 5 hours a day (your choice to do 1 or 2 days of the training–we recommend both days).  You will delve deeper into the best ways to utilize setups, how to ambush the attacker when you're right in front of him, And the most important aspect, you will learn how to start  thinking strategically and tactically–this is far different than a sport fight, the entire environment is different.  You will learn more about asymmetrical, 360 degree warfare than you ever knew about. And the cost for Tier 1 is only $280 a day or SAVE BIG  if you pay in advance of November 15th two days can be done for $300.  don't wait you must take action now–so use the button to secure your Tier 1 level training
Dates: 9 December and 10 December–that's a Saturday and a Sunday
Location: Chiang Mai, Thailand
NOTE: This camp requires a minimum of 5 people attending. Remember to facilitate our logistics and serving you better we need to have either the deposit (Western Union for deposit) or
Save $260 Pay  Now Huge savings for Tier 1 paid before 15 November.  
STOP Click the button