The World's leading Counter Violence, Zero Distance Warfare Instructor offering you self protection and self defense skills.
Christophe  Clugston (Senior Master Instructor/Lanista) has an unmatched set of credentials in Zero Distance Warfare, Counter Violence, street fighting  and professional fighting. You'll be hard pressed to find someone else who comes close to the following qualifications:
PROFESSIONAL FIGHTING
1.Obtained various kickboxing titles in North America from Super Middle Weight to Heavy Weight.
2.Former Number 1 World Rated light heavyweight Shootboxer
3.Fought professionally in Boxing, Kickboxing, Shootboxing, K-1, Muay Thai and amassed a combined pro fight record that stands at 75 fights on three continents.
4.Fought on TV with local cable and national cable in the USA, National TV in Thailand, streaming live from Netherlands, and his fights are marketed on DVDs.
MEDIA EXPOSURE
1.Appeared on TV in Canada.
2.Appeared on TV in Spain (live demonstration)
3.Interviewed in French Canada for newspapers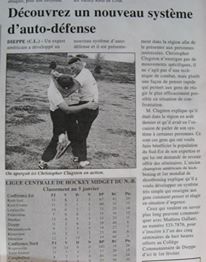 4.Interviewed in USA for newspapers.
5.Interviewed on the radio in Canada
6.Interviewed on the radio in the USA
7.Interviewed on TV in Thailand
8.Appeared in articles in Karate Illustrated Internationational magazine.
9.Appeared in and wrote articles in Blackbelt (the number 1 Martial Arts magazine in the world)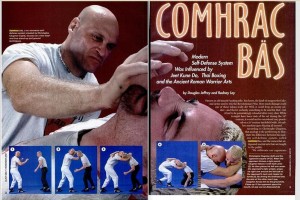 INSTRUCTOR VIA VIDEO AND DVD
1.Number 1 product for TRS video/DVD company with the 1995 Combat JKD package
2.Authored, wrote and starred in Combat JKD, Comhrac Bas I, Savage Street Fighting Skills, and Rosetta Stone for Threat Response Solutions company in California, USA
3.Produced, wrote, scripted, edited, and starred in What the Professionals Know, The Blue Print 1, Nexus, Deep JKD, Anti Grappling, Extreme Military Advantage, VDA, Drills One, TNT KO Power, Maximum Survival Conditioning, the Program, Raw, Spanish Advantage  and Savate D'Apache produced by C-Tech LTD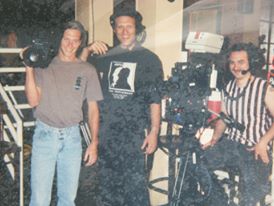 ZERO DISTANCE WARFARE, COUNTER VIOLENCE  INSTRUCTOR: SEMINARS, PRIVATE AND CLASS SETTINGS
1.Conducted almost 1,000 seminars on 3 continents with groups ranging from 10 to 75 people at a time.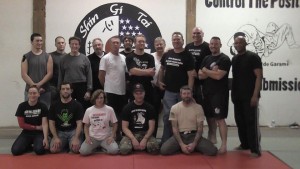 2.Trained Special Forces, La Legion Etranger, FBI, DEA, SWAT, amateur and professional athletes, medical doctors, lawyers, engineers, nurses, students etc.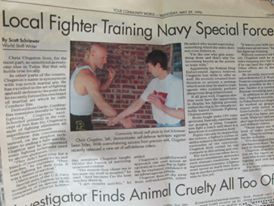 3.Held fixed classes in Missouri, Illinois, Oklahoma USA, Granada, Spain and Phnom Penh, Cambodia for dedicated students.
4.Taught professional auto rallying and anti terrorist driving to various students in USA and Europe.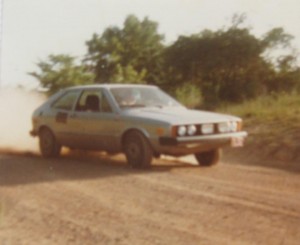 5. Taught Zero Distance Warfare A 001 to Filipino Recon Marine Class 20
TRAINING BACKGROUND GRAPPLING
1.Personal student of Gene LeBell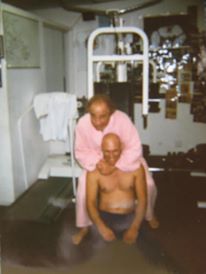 2.Trained with Olympic Freestyle Wrestling Gold Medalist Kenny Monday.
3.Trained with Olympic alternative Chris Barnes.
4.Training partner for UFC fighters: Mikey Burnett, Dave Heath, Matt Wiman, Sean Daughtery.
5.Trained with former US Olympic Judo coach John Saylor and honorary instructor in his Shingitai Organization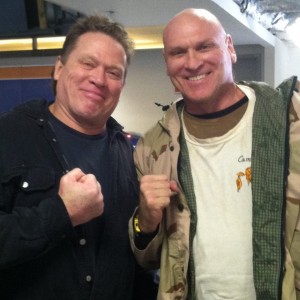 6.Trained with assistant US Olympic coach Pat Burris.
7.Trained with internationally known judo coach John Ross (RIP)
8.Trained with Gokor in SAMBO
TRAINING BACKGROUND STRIKING
1.Trained with pro boxer and coach Cortez Nelson (RIP).
2.Trained by former World Rated Boxer Ronnie Warrior
3.Trained by former Netherlands Heavyweight Kickboxing champion and head trainer for Beast of the East Gym, Netherlands,  Dennis Krauweel (fought out of Beast of the East for K 1 fight)
4.Trained by former kickboxing world champion head trainer of Vos Gym, Amsterdam Netherlands, Ivan "Hydro" Hippolyte. (Fought out of Vos Gym in K 1 fight)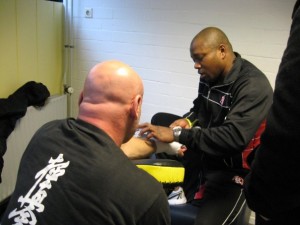 5.Various Muay Thai Champions in Thailand.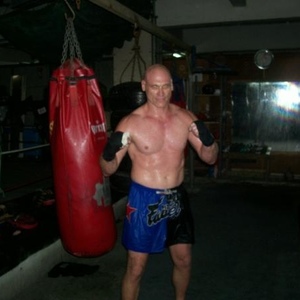 6.Trained by World renown Paddy Carson, trainer for Khmer National Team, trainer for South African Team, promoter in South Africa and Cambodia.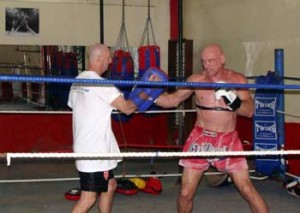 7.Trained by former Savate Champion of France, Dominque Fontarosa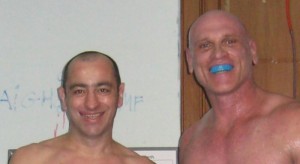 TRAINING BACKGROUND STICKS
1.Dan Inosanto Lacosta System and eclectic Arnis/Kali
2.Authorized instructor in Heyrosa Close Combat Eskrima. I trained personally with G.M. Uwit Jecong in Cebu, Philippines. The only non Filipino who knows the complete System. Components of these are present in Skorpion Stick Fighting (blend of Oriental and Occidental methods).
3. Foremost exponent of Skorpion Stick. Skorpion uses a totally different approach to warfare with a stick. It's been called the JKD of the Eskrima (stick) fighting.
TRAINING BACKGROUND BLADES
1. Master Sgt Prado, Recon Marines Head of Tactical Kali for Philippine Marine training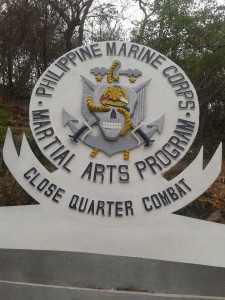 2. Qualified as Kali Warrior and given ritual induction at Recon Marine Base. I am a Level 1 Instructor in Filipino Marine Tactical Kali
INSTRUCTOR, FOUNDER CLUGSTON COMBAT SYSTEMS which specializes in Counter Violence and Zero Distance Warfare training
1.Leading Combat JKD Instructor who brought International acclaim to the sub branch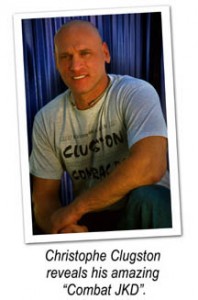 2.Researcher of Occidental Fighting Methods from Aztecs to the Zulus.
3.Founded Comhrac Bas an evolution of Combat JKD with Occidental paradigms.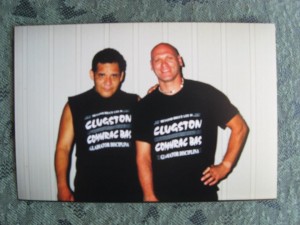 4.Pioneered the rebirth of Combat-Judo (go to combat-judo.com for more details) US Army Rangers, US Marine Raiders, US Army Alamo Scouts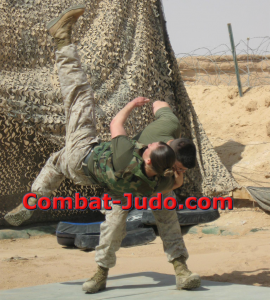 5.Founded Prolieum Ars—a Combat Science for Counter Violence and Zero Distance Warfare and Combat-Judo. In total the Clugston Combat System uses parts he invented and from methods that utilize sticks, knives, battle field, self defense and sport fighting More specifically it includes Lethwei, Catch Wrestling, Zero Distance Blade Method, Eskrima, dueling from Spain, Combat JKD, Comhrac Bas, SAMBO, boxing, K 1, Marine Kali, Savate D'Apache, Simian Fighting, Judo, Sumo, etc.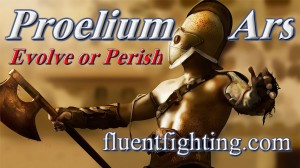 5. World leader in Counter Violence and Zero Distance Warfare training
TESTIMONIALS
1.Private students in USA, Canada, Spain, Cambodia, Thailand who represent such countries as the following: USA, Canada, Spain, Mexico, Costa Rica, India, Hong Kong, Italy, Russia, Belgium, England, Australia, Bahrain, Ireland, Scotland, Switzerland, Philippines, etc.
2.Distance learning students: young and old who have stated that my technologies saved their life and helped them out of dangerous situations.
3.World wide letters, calls and e mails from every continent except Antarctica since 1996 (check the review page)
SECURITY, CLOSE PROTECTION WORK
1.Olympic High Risk Security Los Angeles for Olympic Games.
2.Night Club security in California, Oklahoma, USA; San Jose, Costa Rica; Granada,Spain
3.C.P. work in Mexico, Costa Rica, Thailand, Cambodia, Spain, France, and Netherlands.
SOME POINTS OF INTEREST
1.Trained in strength/speed by the number 1 power lifting coach in the World, Louie Simmons.
2.Served as referee/judge at Arnold Grappling Contest 2000, Columbus, Ohio
3.Served as assistant to John Saylor's 2009 Arnold Grappling, Columbus, Ohio
4.Cornered professional boxers, kickboxers, MMA, K-1, Muay Thai fighters about 2,000 fights on 3 continents.
5.Trained amateur and professional fighters: boxing, shootboxing, MMA, K-1, Muay Thai.
6.Army award for best athlete.
7.Muay Thai award for KO of the night
8.Accelerated learning teacher.
9.Appeared as an extra and stunt man in film and TV.
10.Asked to take part in 1995 Dog Brothers' Stick Fighting Gathering